Louis Vuitton

The French actress sports outfits from LV's pre-fall collection including a cable knit sweater, navy coat dress and a long sleeved printed dress. She was styled by Marie-Amélie Sauvé and photographed by Patrick Demarchelier.


Léa's has worn Louis Vuitton on the red carpet on a number of occasions and she certainly adds her own touch of cool to every outfit. As an official face of the brand, we now have a lot more Lea/Louis Vuitton red carpet appearances to look forward to.
Louis Vuitton
Louis Vuitton Monogram Chain Flower Twist Chain Wallet
Size: 7.5′ x 4.7′ x 1.2′ (L x H x W) inches
Price: $1840 USD, €1250 euro
The evolution of the Monogram Print – this summer Louis Vuitton adds a nautical chain print to their collection. It's inspired by the Monogram Bay theme.
It's a clever design because big and beautiful chains have become an important element in today's handbags. Now the Chains are melted with Monogram Print and painted with bright colors like white, red, pink and light-orange. Love it.
You can find the new Monogram Chain Flower Print in the iconic Speedy Bags or the Neverfull Tote Bags. It adds a big doses of cool to it, hmmm…how to put it? Stylish and bold with a 70's touch.
But there is more…
You can also find the new Monogram Chain Flower Print in combination with Epi Leathers. This mix creates a clean, flawless and luxurious appeal. Especially when it is covered on the Classic Alma Bag, it gives the bag a fashionable richness. And you will even love it more when we tell you that there are plenty of colors available.
So how much love for this new print?
Louis Vuitton Monogram Chain Flower Twist Chain Wallet
Size: 7.5′ x 4.7′ x 1.2′ (L x H x W) inches
Price: $1840 USD, €1250 euro
Louis Vuitton Monogram Chain Flower Alma BB Bag
Size: 9.8′ x 7.5′ x 4.7′ (L x H x W) inches
Price: $2350 USD, €1680 euro
Louis Vuitton Monogram Chain Flower Neverfull Bag
Size: 11.4′ x 12.6′ x 6.7′ (L x H x W) inches
Price: $1570 USD, €1180 euro
Louis Vuitton Monogram Chain Speedy 30 Bag
Size: 11.8′ x 9.1′ x 6.7′ (L x H x W) inches
Price: $1370 USD, €980 euro
Louis Vuitton Monogram Chain
Size: 7.5′ x 0.8′ x 3.9′ (L x H x W) inches
Price: $905 USD, €615 euro
Tag: Louis Vuitton bag Chain Monogram COLLECTION FLOWER
Louis Vuitton
We know that Louis Vuitton will never stop innovating until they find the next 'Speedy Bag' or the next 'Neverful Bag'. And even if they'd find it, they will not stop.
One of the bags that caught our attention is the Louis Vuitton Pont-Neuf Bag and here's why…
While this bag is quite new and not released long time ago, the fashion house is investing and expanding the collection.
The first Pont-Neuf Bag was made from Epi Leather, the next bag was made from Empreinte Leather, both are gorgeous btw. And now, Louis Vuitton releases the Mini Pont-Neuf Bag.
READ: Louis Vuitton Pont-Neuf Epi Bag
READ: Louis Vuitton Pont-Neuf Empreinte Bag
How exciting? Due to its size, the mini version looks totally different than the large size – much cuter. And you will love to have such beauty on your arm.
The design is modern, the embossed leather is smooth and displays a host of heritage details (Monogram). It's posh and trendy, this little chic bag is for all occasions.
For now the Mini Pont-Neuf Bag is only available in Empreinte Leather, it comes with a long leather strap that can be removed. The interior features 2 smartphone pockets, one large compartment. The exterior comes with a front flap pocket with hidden zip.
Measuring 8.3' x 7.5' x 3.5' inches (L x H x W), priced at $2510 USD or €1850 euro via Louis Vuitton boutique.
Tag: Louis Vuitton bag Mini PONT-NEUF
Louis Vuitton
Introducing the Louis Vuitton Speedy Amazon Bag. An updated version of the iconic Speedy Bag, the Speedy Amazon is a shoulder bag without the top handles. This bag is from the brand's Spring/Summer 2016 Collection. The shoulder strap is adjustable, allowing the bag to be carried across the body. It has a double zip opening and opens to a sheepskin interior with two inside flat pockets. It also includes a leather nametag with a metallic Louis Vuitton logo. This new design features the latest Monogram Canvas colors for Spring/Summer 2016, which comes in Noir/Blue and Noir/Blanc. Available in two sizes, MM and PM.
Style, Price & Size
| Style | Price | Size |
| --- | --- | --- |
| Louis Vuitton Speedy Amazon MM Bag | $3,950.00 (USD) | 8.3″ L x 6.7″ H x 11.8″ W |
| Louis Vuitton Speedy Amazon PM Bag | $2,530.00 (USD) | 8.3″ L x 6.7″ H x 11.8″ W |
Gallery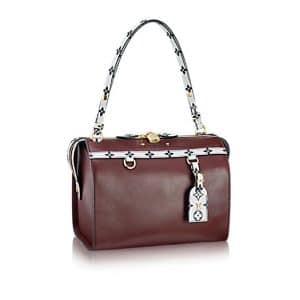 Tag: Louis Vuitton bag Speedy Amazon
Louis Vuitton
The famous Epi bag from Louis Vuitton has just been reinvented with interesting twists! The LV Twist Stitched Epi Shoulder Bag was just recently introduced and launched by the fashion powerhouse's Creative director Nicolas Ghesquière. For the newest and latest collection, the creative team behind this timeless luxurious brand added beautiful large stitches as added ornaments and decorations thus making it look girlier and more feminine. With powerful string accents, the Epi bag just looked more adorable.
What's even more appealing with this bag is the ingeniously designed "wave" base that provides extra room for your necessities. They said that looks can be deceiving and the same can be said with this eye candy for it's roomier than it actually looks like. Throw all your worries away out the window for it can stow and hold all your essentials such as your small make up kit, mints, smartphone, car keys and even your wallet! The chain handles are not only fashionable but they're also multifunctional as well for you can hung them fashionably from your shoulder or you can wear them cross-body.
So what are you waiting for? Head to the nearest LV boutique and get your hands on this newest bag collection.
Tag: Louis Vuitton bag Shoulder Epi Twist STITCHED
Louis Vuitton
The Phenix Bag from Louis Vuitton has redefined the meaning of having a perfect stylish signature tote bag without sacrificing one's style. Practical for the busy schedule of a cosmopolitan woman who is more than ready to take over the world, this spacious bag looks fashion-forward in all the right corners.
Boasting of a monogram coated canvas with natural cowhide leather trim, microfiber lining, removable strap in natural or smooth cowhide leather and golden colour metallic pieces, this designer bag will add more fun and stylishness to your ever growing bag collection. Stay polished and add interesting pieces to complement your whole outfit! You will never go wrong in pairing and mixing the LV Phenix Bag with your equally trendy wardrobe. This roomy bag is perfect for stowing your makeup essentials, smartphone, iPads/tablets, and even your favorite book!
It has the following measurements: 15.7 L x 10.2 H x 5.9 inches x W. For those women who can't decide what size of bag you need, fret not for the Phenix Bag comes in two sizes: MM and PM that you can choose from! It is priced at $1960 USD for the PM size, while the MM size comes at a price tag of $2440 USD. In euros, the PM size is priced at €1460 while the MM size is priced at €1670.
Designer Bags, Wallet, Purse, Belt & Accessories Official Site, Best Price & Quality, Free Worldwide Shipping, Free Returns. Each Bag Is A Work Of Art - Handmade - Cowhide Art - Can Custom-Made

Categories

New Posts

Hot Posts